About Us
Meet the MCL Real Estate Group – McLaughlin Commercial Luxury
Kris McLaughlin Personal Real Estate Corporation, CCIM, ACP – Team Leader
Kris McLaughlin CCIM, ACP is a Director and Co-Founder of MCL Real Estate Group. The McLaughlin name is one of the Okanagan's most recognizable in real estate. Kris incorporated the MCL Real Estate Group as a team of specialists who work together to make record transactions, exerting passion, professionalism, integrity, and uncanny industry knowledge. Kris's ability to connect and communicate with a wide range of clientele is guided by his passion for travel, and his self-motivated mindset to get the deal done.
Call Kris to find out why he's the best in the game.
Mobile: 250.870.2165 Email: Kris@mclrealestate.ca

Start your Search for Kelowna Real Estate
Ken McLaughlin, B.Comm., ACP – Senior Partner
Ken has earned a reputation for expertise and professional due diligence in the commercial real estate markets serving Kelowna and the Okanagan Valley.  His commercial real estate approach is cooperative between REALTOR® and developer and it is driven by the principals of buying great sites and improving them through innovative, distinctive and superior real estate developments.  His commercial real estate practice serves clients across the beautiful Okanagan Valley in BC including the cities of Kelowna, Lake Country, Vernon, Westbank and Peachland.
Mobile: 250.870.7845 Email: ken@commercialbc.com
Nate Flavel, CLHMS®, ACP – Selling Partner
Nathan fell in love with Kelowna as a child – as many Okanagan residents do – while vacationing with his family each summer. As a young man, he moved to Kelowna and later purchased his first home at 21.
Nate has called Kelowna home for the past 20 years, and has become a significant member of the business community with extensive experience in media, marketing, and the arts and cultural sectors.
Twelve years ago, Nate co-founded Kelowna Actors Studio, the valley's only licensed dinner theatre and performing arts school. In addition to his position as executive producer, Nate is actively involved on the artistic team at Actors Studio, and he can be seen on stage performing, decorating a set, or directing any given production.
Nathan has always believed in giving back to the community he serves, consequently, he has been the recipient of the Kelowna Chamber of Commerce Young Entrepreneur Of the Year award, The Okanagan Arts Award for Theatre, and the City of Kelowna Civic Award for Honour in the Arts. He currently sits on the board of Tourism Kelowna, and the Kelowna General Hospital Foundation Heart of Gold Committee.
Nate has always had a passion and an interest in real estate. His attention to detail, his artistic flair, and his marketing savvy make him an outside the box thinker and definite asset for his clients.
Mobile: 250.979.8310 Email: Nate@mclrealestate.ca
Angie Krebs – Seller Partner
Angie was born in Langley, B.C. and moved to the sunny Okanagan 19 years ago. Her husband was born and raised in Kelowna and the decision to stay and raise a family was quite simple. Angie joined the work force in Sales and Marketing and has always excelled as a top leader with an impressive track record for results.
At many points in her life she has been in your shoes as a buyer, seller, investor and builder. She understands the importance of working hard and acquiring all the information you need in a timely manner to find the home of your dreams. Exposure is everything; leverage her experience and marketing tools to turn 'selling' into 'sold'. She believes that Real Estate doesn't sleep!
Mobile: 250.718.1847 Email: Angie@mclrealestate.ca
Sarah Bliss – Team Coordinator – Unlicensed Assistant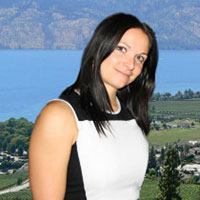 Sarah joined MCL Real Estate Group at the beginning of 2014. She brings to the table a wide array of experience in customer service and maintaining the financials of numerous corporations. Sarah is also in the process of obtaining her trading services license and will become a licensed member of the MCL Real Estate Group.
Mobile: 250.300.4592 Email: info@mclrealestate.ca